Why is it important to be active?
Whether you're a teenager or you're in your sixties, staying active is essential for your wellbeing. We all know that being active and eating healthily is good for our bodies and our minds, but today we thought we'd look at some of the benefits of an active lifestyle - and give you some top tips on how to improve your diet and exercise regime to keep you looking at feeling your best.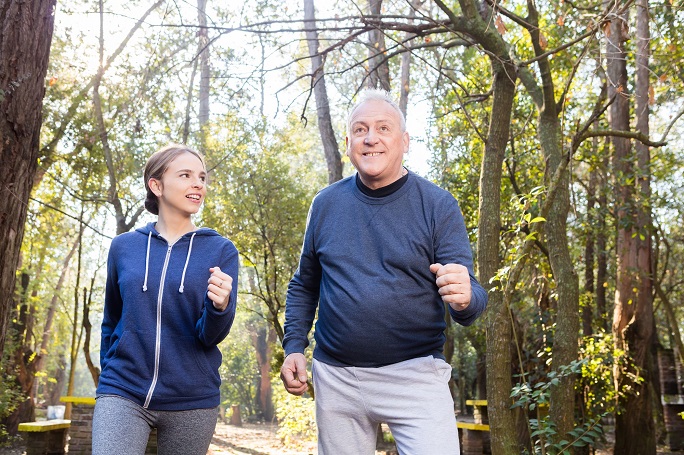 The benefits of an active lifestyle
There are a wide number of benefits of an active lifestyle, such as being in better shape, having more vitality, reducing stresses and improving your mental health and self-esteem. In fact, research suggests that just 30-minutes of low-intensity exercise three to five times a week can have a massive impact on your mood, increase your enthusiasm and boost your alertness.
Other benefits of exercising regularly include better weight control, better sleeping patterns, better muscle and bone health (including the ability to prevent osteoporosis), and the prevention of several risk factors for heart disease, including blood pressure, diabetes, and hypertension.
How to stay active
If you work the typical 9 to 5 and spend your day sitting at a desk and waiting in traffic, then you probably think that an active lifestyle is out of the question. But it doesn't have to be that way. There are lots of things that you can do to stay active throughout the day, even if circumstances mean that you lead a sedentary lifestyle. First, walk or cycle to work, and head out for lunch and break up the day with a brisk stroll through the park. Sign up to your local gym let off steam at the end of a working day, or consider investing in a personal trainer to boost your spirit.
If you want to take your weight loss or fitness regime to the next level, you could even consider joining a charity run or marathon to give you inspiration and keep you on track for success.
Oh, and don't forget the role that food can play. Superfoods such as mushrooms, which are full of phytochemicals, help to fight disease, while walnuts, a source of omega-3 fatty acids, are great for keeping you energised and ready to exercise. Think about creating a diet plan to complement your lifestyle and power your body with the right nutrients and minerals.
What else can you do to keep your body at its best?
As well as eating healthily, getting enough sleep, and exercising regularly, there are other things that you can do keep your body working at its best, like taking vitamins, reducing stress levels, and considering a sports massage or remedial massage after particularly intense workouts.
Massage therapy is a great way to relieve anxiety, soft tissue injuries and joint pain - and can be used on a regular basis if your active lifestyle is taking its toll. Regular Deep Tissue massage as part of your therapy regime helps keep muscles supple, stimulates blood circulation and promotes recovery from hard training or injury.
Also if you are preparing for a marathon, Pre massage before the event can be beneficial to enhance performance, prevent injury and speed up recovery processes afterwards.
If you are thinking of your next massage therapy, contact Intulo Health. We are a team of professionals based in Bournemouth and Ferndown offering Sports and Remedial Massage, Rehabilitation and Body MOT analysis.
Get in touch today. Call us on 01202 443892, text: 07789 810752 or email amanda@intulohealth.com
Remember to 'like' our facebook page as well to keep up to date with all of our latest news!