Common Problems for Dancers
Amanda shares an issue faced by a Client whom is an artist, a performer, a dancer and a dedicated student.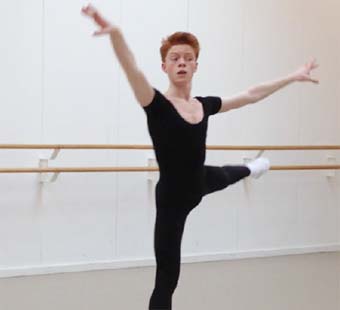 Christopher Andrews (16) Chris is a Bournemouth boy and started local drama classes at 5 years of age and then asked to take ballet, tap and modern lessons a year or so later, getting Distinction in the first of many dance exams at the age of 7.
He had singing lessons from the age of 8 and continued to do drama, ballet, tap, modern and singing until recently, playing Charlie Bates in Oliver the Musical in the West End in 2010. Chris nearly gave up dance several times due to bullying at both primary and secondary schools and had to have his guard up every day at "normal" school. He was given a scholarship to attend Tring Park School Sunday Classical Ballet Academy for the last 2 school years and he also attended Central School of Ballet (London) Pre-Seniors every Saturday from Jan to July 2013.
Last school year he really enjoyed being a member of the English National Ballet Youth Co, giving several performances in London this year. Chris won a funded place on the 6th Form Dance Course at Tring Park School for the Performing Arts, Tring, Hertfordshire. He now studies Ballet, Contemporary and Jazz every afternoon at school, with A Level classes in Drama & Theatre Studies and Art in the mornings. Once Chris leaves his schooling, he hopes to join a Ballet Company such as ENB or a neo-classical ballet company, whilst continuing his art to supplement his income.
The Problem
Chris came to see Amanda because he was suffering with aches and pains in his back, chest, hips, calf muscles and feet! After an intensive assessment by asking relevant questions relating to the amount of hours he dances, watching his movements, identifying the weaknesses as well as the inhibited muscles, Amanda was able to assess what treatment is crucial to relieve the ongoing aches and pains as well as developing the right strengthening program to enhance his development as a dancer, especially within his age group.
Chris dances for a minimum of 27 hours a week in the afternoons after school. 16.5 hours of those classes are ballet classes. Ballet dancers strive for the 'perfect turnout' with their feet pointing directly side to side. The high degree of external hip rotation, or turn out, distinguishes ballet from other forms of dance. Rotation gives ballet positions and steps their characteristic line. Proper use of rotation, rotating from the hip, not the foot and lower leg can help protect a dancer from serious injury. Chris is naturally flexible as a result of dancing from such a young age and the amount of hours he dedicates to his practice, his flexible musculature enhances his technique and form, however, too much flexibility makes him vulnerable to injury. Problems occur when a dancer's flexibility is out of proportion with their muscular strength.
Chris' flexibility expands his range of motion, but the lack of adequate muscle strength compromises the integrity of the supporting joints - i.e. his lower back, knees and ankle joints. Plantar flexion, or the ability to point the toes toward the floor is another stringent requirement of professional dancers, this position allows them to dance up on their toes, but this professional requirement comes at a sacrifice to their overall foot and ankle health. The muscles between the knee and the ankle joint are responsible for moving our feet, hence why Chris experiences aches and pains in his 'calf' muscles.
Finally the extreme range of spinal motion imposed on dancers for the sake of their art often causes lumbar injuries as a result of excessive over- stretching and back hyper-extension. So as a result the large Trapezius and Lattisimus Dorsi muscles in Chris' back are working very hard to stabilise and support his shoulder and neck joints.
If you think this article applies to you then please do not hesitate to contact Amanda on 07789810752 for a FREE 20 minute assessment.
Amanda's Solution
Dance is physically demanding, whether you're a professional or dance is your hobby. Classes, rehearsals, and performances are physically intensive.
Dancers are well known for dancing through an injury, but regular massage treatments can help prevent the injury before it happens as well as releasing tension in the joints and tendons, improving flexibility and range of motion.
Strengthening intrinsic muscles in the feet, lower limbs, hamstrings (to support the hips), gluteal muscles (all external rotators), lower back, mid thoracic, rotator cuff muscles as well as neck stabilisers is essential for Chris.
However, it is essential that ballet dancers have the "perfect line" in their dance, so it is important that we don't 'over develop' Chris' muscles. Over development or strengthening can cause shortening at the tendons which could lead to lack of flexibility as well as creating more atrophy in the muscles which will cause them to bulk up.
Exercise programs such as Pilates, balances flexibility with strength and prevents dance injuries associated with hyper-flexibility. Chris should combine hip flexibility exercises with hip strengthening workouts. Ballet dancers should balance their foot and ankle muscles by performing exercises that dorsiflex, or curl the toes toward the shins.
Dancers with hypermobile feet and ankles have decreased spatial awareness, called proprioception, and require balance training exercises to avoid ankle sprains.
The Benefits of Sports and remedial massage for dancers

Aids and speeds up the bodies natural recovery process
Massage helps to prevent injury
Enhances performance by releasing mucular tension
Aids the healing process with minor soft tissue injuries
Improves flexibility and range of motion
Improves posture
Overall relaxation
And remember...
Whatever your lifestyle and whatever your game...
DO NOT LIVE IN PAIN..!
Written by Bournemouth based remedial massage therapist Amanda Burger