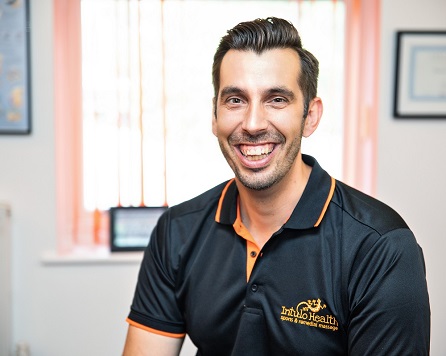 Paolo has always enjoyed working with people within the health industry and his training at the AECC Bournemouth has led him into a career helping people through deep tissue massage, soft tissue and rehabilitation.

Whilst his main area of expertise is sporting injuries, utilising a variety of techniques such as massage, rehabilitation, dry needling, cupping, mobilisation and post isometric relaxation, Paolo has a number of clients that are not sports people at all.

Paolo is a keen runner, cyclist and golfer, he also enjoys spending time with his family and friends and visiting his second family home in Italy.
Qualifications:
Degree of Certification of Higher Education Human sciences, Sports and Remedial Therapy at the Anglo European Chiropractic College.
To find out how sports and remedial massage therapy might help you, please contact us via the contact page or phone on 01202 443892 to book an appointment with Intulo Health and experience the benefits of deep tissue sports or remedial massage treatment.
Take a look at our client's testimonials.